Uebertribe
Die aufregendste Funk-Band im Norden.

Wir freuen uns riesig auf dieses Konzert!
Nach heissen Auftritten in den Hamburger Clubs Knust, Birdland, Kukuun, und beim Feel Jazz Festival 2019 spielen sie ihre tanz- und schweißtreibenden Funk/Jazz/Afrobeat in der Klappstuhlkultur am 24. Mai !!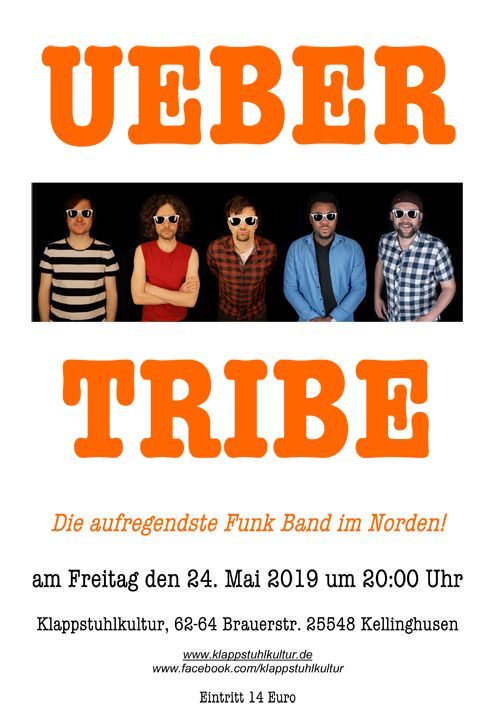 Uebertribe is a funk band from Hamburg, Germany, known for its surprising "over the cliff" grooves and arrangements and a gritty sound. Having their roots in raw funk, Uebertribe takes you to a trip to the outer space through genres like Afrobeat, PFunk and Jazzfunk. Hittin' it on the one, getting hard as Funk Rock, shooting through the Neosouls grease, and putting some Voodoo on all of it, Uebertribe sounds raw and dirty, cause dirtkeeps the Funk.
"High energy raw funk with that jangly guitar we all love mixed with some Hammond, we can't ask for anything more" - wrote Flea Market Funk to their first seven inch drop on Our Label Records. Well, meanwhile they have some more to offer.
Uebertribes debut album - Brand New U - was released on September 14, 2018. Charming shitty analog recording (thx Dennis Rux), mighty Hammond B3 (thx Chris Haertel), powerful horn section (thx Diazpora Horns) and loads of vintage gear were essential to get these 9 instrumental tracks as raw and expressive as they were meant to sound. And their mission as a band - "We sweat, u dance, and we all have fun" - is quite apparent in all of them!.
Mal reinhören: Konzert vor 6 Monaten im BIRDLAND (Hamburg) oder bei Radio Brennt!
Datum: 24. Mai 2019 - 20.00 Uhr Konzert
Eintritt: 14 Euro
Datum::

24. Mai - 20.00 Uhr